If someone you love is dealing with a substance abuse problem, you may be worried about what it will take to get clean and sober. There's a lot of misinformation out there about rehab centers, and you probably don't know what to expect. What's important to know is that drug rehab facilities exist to help you overcome addiction as smoothly as possible.
About Drug Rehab Facilities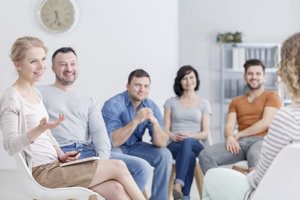 Drug rehab facilities are places that help you to get past your substance abuse problem by supporting you in learning new behaviors and understanding the reasons behind your drug use. Both inpatient and outpatient programs can exist, depending on your needs. Detox is typically the first step before entering a center, though some drug rehab facilities have detox services within their organization.
The staff of these centers wants to help you create goals for yourself that will move you forward toward a healthy and productive life. You'll learn skills that will assist you in staying clean, dealing with interpersonal relationships, and managing other issues such as mental health conditions.
What It's Like in Drug Rehab Facilities
There are a number of components to drug rehabilitation. During the intake process, an expert will talk to you about your drug use and history to get an idea if rehab is right for you. This evaluation happens before entering a program and involves creating a treatment plan just for you.
Detox may also occur prior to entering rehab. This process helps to remove toxins from your body in a way that eases any withdrawal symptoms. While each day is different, there are some common activities you can expect during a typical day of rehab:
Regular meals
Activities and assignments to support therapy
While there may be downtime during your time in rehab, you don't necessarily have complete freedom. There are rules in place, and you'll be expected to follow them for your safety and the wellbeing of everyone at the center.
How Memphis Recovery Can Help
When it comes to your substance abuse treatment, the expert and knowledgeable staff at Memphis Recovery want you to succeed. We offer a wide variety of services, and we emphasize an attitude of individual focus. We know every individual has their own needs, and we strive to help you meet them.
Services include:
Most importantly, we want you to know you don't have to go down this road alone. There is help available to make the transition a smooth one, and you can overcome your substance abuse. Drug rehab facilities exist for just that reason. Call us today at 866-672-7378 to learn more.