Dialectical behavioral therapy (DBT) helps you learn new skills for better living with freedom from substance abuse. This therapy fulfills one part of a quality program designed for complete healing after addiction. Memphis Recovery Centers in Memphis, TN provides DBT and other treatments guiding you and your family to real hope after your long battle with addiction.
About Dialectical Behavioral Therapy (DBT)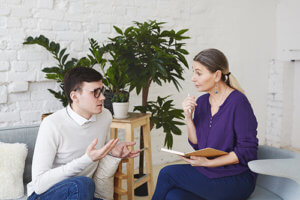 Dialectical behavioral therapy is a type of cognitive behavioral therapy (CBT). A renowned therapist named Marsha Linehan, Ph.D., ABPP developed the therapy style in her own counseling practice in the 1980s. DBT emphasizes using psychotherapy as well as group therapy for learning better life skills. These skills then help you build the life you want, one truly worth living.
Critical aspects of dialectical behavioral therapy include mindfulness, tolerance of distress, emotional balance and also relating to others in productive ways. DBT works well for people with multiple types of problems, including addiction. It also helps with suicidal individuals, those with borderline personality disorder, depression, PTSD, and eating disorders.
What Does DBT Involve?
A dialectical behavioral therapy program uses DBT in combination with other types of therapy to help people stop abusing drugs and alcohol. Through DBT, you work with your therapist to set meaningful life goals. Maybe your goals start with ending negative behaviors and evolve into goals like maintaining a job and healthy life balance.
Your dialectical behavioral therapy program includes five parts. This multi-part approach makes DBT unique and gives you the power to take real steps into a better life. In fact, each mode of your dialectical behavioral therapy program treatment helps you meet clear goals.
Modes of DBT
In the first mode of your dialectical behavioral therapy, you learn behavioral skills. Much of this takes place in group therapy, often with homework. Homework sounds like a drag but actually helps you practice what you learn away from the group setting. Your skills training includes mindfulness, distress tolerance, and building healthy relationships, as well as balancing your emotions.
At the same time as you learn skills in group therapy, you go through the second part of your dialectical behavioral therapy program in individual counseling. This therapy helps you build and also maintain motivation in using the skills you learn.
One of the best aspects of DBT is the ongoing support you receive outside of the therapy sessions. Your counselors use coaching throughout rehab to provide support when you need it, instead of having you wait until you are in a closed room with a therapist. This coaching supports you and helps you see that others stand by you, cheer-leading you in the right direction.
In DBT, you learn to be your own case manager. This means you learn how to manage your life through validation and problem-solving skills. Soon you find yourself relying on others less and standing well-positioned for a better life under your own power.
Finally, the fifth aspect of dialectical behavioral therapy involves support for your therapist. Other people involved in your recovery provide the therapist with feedback, so the therapist knows better how to help you keep moving in a positive direction. It bridges the gap between therapy sessions and builds a "village" around you of people wanting you to succeed and helping you reach your life goals.
Getting the DBT and Other Therapies You Need for Strong Sobriety
Memphis Recovery Centers in Memphis, TN provides DBT along with a family therapy program Memphis trusts. You build trust for this program too, as you start feeling real hope for the life you want and reaching goals getting you there. Through Memphis Recovery's DBT and other therapies, life becomes exciting and new as you learn how to live in this better existence of sobriety.
Programs at Memphis Recovery include the following:
At Memphis Recovery Centers you never feel alone. You also gain the support and skills needed for a wonderful, healthy life. Call Memphis Recovery now at 866-672-7378 to learn more about dialectical behavioral therapy and other treatment methods.