The abuse of harsh drugs such as heroin can lead to many destructive short and long-term effects. To get the help that's needed the most, it's important for an individual to be able to notice classic heroin abuse signs. The following information will equip you with important facts about heroin, signs of heroin abuse, and sources of proper treatment.
Signs of Heroin Abuse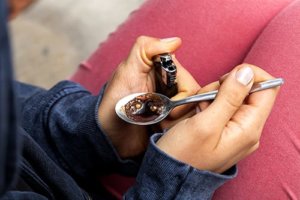 Heroin is an illicit drug made from morphine. While medications such as morphine can have very useful benefits for those experiencing painful health issues, heroin primarily a recreational drug due to the high it creates. Even the short-term abuse of a drug such as heroin can cause major damage to a person's body and mind. The following effects are sometimes experienced by those suffering from heroin abuse:
Memory Issues
Those abusing illicit drugs such as heroin may sometimes experience problems remembering important information. The sedating effects of the drug can also create issues with maintaining proper focus.
Intestinal Upset
Those struggling with heroin abuse might also experience a disruption to their normal intestinal functioning. For example, it's common for these individuals to have nausea, vomiting, or stomach pain.
Severe Itching
The effects of heroin on the brain can result in skin issues such as chronic itching. This type of irritation is extreme and may cause the person to scratch themselves to the point of bleeding.
Withdrawal Symptoms
People facing a true addiction will not be able to simply stop using the drug just because it's causing damage to their life. Rather, they will have very upsetting withdrawal issues if they try to even cut back on their usage. Heroin withdrawal symptoms are also frightening for many people.
What if I Recognize Classic Heroin Abuse Signs?
What should you do if you notice classic heroin abuse signs in a loved one? This can be a scary process, so it's normal to experience nervousness and fear. However, it's important to take action promptly.
Heroin abuse signs indicate that a severe or life-threatening problem might be going on. Quickly reaching out for help may mean less suffering for you and your entire family. If it's a loved one who is experiencing a problem, encourage him to seek treatment while still offering your unwavering guidance and support.
Seeking Helpful Treatment for a Full Recovery
What should you look for in a reliable and trustworthy rehab center? The attributes you find most important may come down to personal taste, future goals, and current struggles. Additionally, many also treasure a rehab facility that allows their loved ones to get involved in their treatment.
More About Memphis Recovery
Memphis Recovery Centers is a high-quality rehabilitation center located in Memphis, TN. The professional and skilled staff at Memphis Recovery pride themselves on offering the latest treatment options in an inviting and warm setting.
Some of our services include:
Don't remain locked in the chains of addiction. You can break free from these issues by seeking care at the right type of rehab center. Call Memphis Recovery at 866-672-7378 to get help right away.