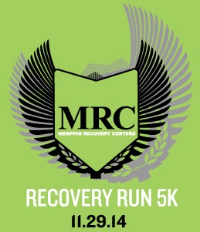 Race November 29, 2014 at Overton Park
Memphis, Tenn. — Memphis Recovery Centers (MRC), one of the city's longest standing substance abuse treatment centers of adults and adolescents, will host its seventh annual 5K Recovery Run on November 29, 2014 at Overton Park. The race will begin at 9am.
The run is an important fundraising initiative for MRC and typically attracts approximately 400 runners from around the region. This year, the Plough Foundation will award MRC a $50K grant if MRC can raise its own $50K in matching donations. Race sponsors will also be contributing to the matching campaign.
Registration for the day of the race is $30. All proceeds will benefit MRC's youth program which serves young people who need assistance reclaiming their lives from problems arising from substance abuse. Runners this year will also be given ribbons to wear in honor, memory or support of loved ones who have or are currently battling addiction.
"The MRC Recovery Run has traditionally been an important part of our fundraising efforts, and this year we have been given an added incentive courtesy of the Plough Foundation," said Mike McLoughlin, president and CEO of MRC. "Some people run for the exercise. Some people run in support of a loved one who is battling addiction. In either case, it's a great way to spend a Saturday morning in support of a good cause.
"Our hope is that the greater Memphis community will recognize the need for the services we provide and will run to support our mission to bring opportunities for health and wellness to people who need it the most."
MRC staff are trained to treat those with addiction as well as those with both addiction and mental health disorders. In addition, through its youth program, MRC provides an in-house school to help young patients to stay engaged academically.
MRC provides both in-patient and out-patient services and has an extensive staff of professionals who are well trained at implementing evidence based individualized treatment modalities.
Various healthcare policy changes at both the state and federal level have forced MRC to make budget dollars stretch further than ever before.
"We are very proud to say that we are striving to provide excellent treatment service for all of our patients," said McLoughlin. "At the same time, we are always looking for ways to increase our capacity for helping people with addiction, and in this current healthcare environment, we need to seize every opportunity to strengthen our fiscal position."
Give Memphis Recovery a call at 866-672-7378 to begin your recovery process.