Congratulations to Jimmie Clay for being nominated as November's Making a Difference Employee! Jimmie was chosen due to his compassion and concern for MRC's patients. His peers noted that he is a team player, treats everyone with respect, and is dedicated to our mission. Jimmie brings a positive and caring attitude to work each day and knows how to bring light to a dark moment.
Q&A with Jimmie Clay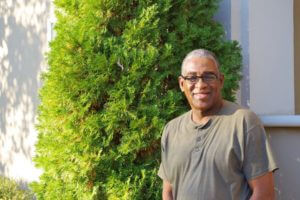 Q. If you could be any animal, what animal would you be?
A. I guess I would be a horse, a stallion. They love people and they're fun animals!
Q. What is your favorite movie?
A. I have to say Soul Men.
Q. What is your idea of a perfect vacation?
A. Hawaii! I have never been but I would really like to go.
Q. What is the most valuable life lesson you have ever learned?
A. To learn to live the way I believe God wants me to live.
Q. What does it mean to you to be "making a difference"?
A. It speaks volumes to what I've become and the journey I am on to know that I'm making a difference. I haven't always been this way. I have to give it to my Creator, He has given me an attitude of gratitude to be of service to this population.
"Attitude of Gratitude"
Jimmie Clay has been a dedicated employee of MRC for 14 years. He started out working with our teens at YD and now works with our adult patients. Jimmie's favorite thing about working here is serving the patients. "I love being able to see the reward, to see the hope they have when they leave here. I'm in recovery myself and I get to give back what has been given to me. Working here, it keeps me grounded. God knew exactly what I needed when he placed me here."
Jimmie was born in Jackson, Mississippi and moved to Memphis in 1998. He has a beautiful wife who is extremely supportive of him, and five children. He also loves being PawPaw to his eight grandchildren! He really enjoys singing and has a love for sports. Jimmie is grateful for the team of employees here at MRC, "I appreciate the rapport we all have as a team. Everyone has been great. All the employees here, they haven't showed me anything but grace. It's been a great ride!"
Give Memphis Recovery a call at 866-672-7378 to begin your recovery process.