Congratulations to Brad Shideler for being nominated as June's Making a Difference Employee! Brad was nominated by many of his peers due to his strong work ethic, compassion for others, and constant dedication. He is always willing to do whatever it takes to keep MRC running smoothly, even if it is not part of his normal duties.
Q&A with Brad Shideler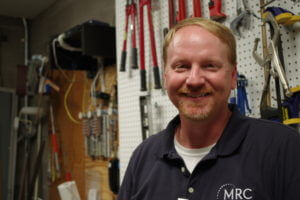 Q. What was your favorite toy as a child?
A. Stompers. They were little electronic cars that took 1 AA battery. They had a little motor that I would take apart. I would change the gears to see if I could get the motor to move faster.
Q. Would you rather jump into a pool of chocolate pudding or a pool of chocolate ice cream?
A. Pudding. It would have a softer landing. Do I get a spoon? I would have to have a spoon!
Q. What tv show do you secretly enjoy?
A. Currently, it's Parenthood, but if How It's Made is on, I have to watch it.
Q. Where is your favorite vacation spot?
A. Disney World or the Colorado Rocky Mountains. When I'm at Disney I can totally disconnect from everything and get pampered the whole time. My wife and I actually went there on our honeymoon. I love looking at the scenery in Colorado. I plan on visiting again in 2017.
Q. What does it mean to you to be "making a difference"?
A. Well, I don't do what I do for recognition. I have always strived to do the best I can do in all things that I do, so it can be hard to realize I'm making a difference. It is very honoring that people would think I am making a difference at MRC.
"Going the Distance"
Brad Shideler started working at MRC in 2004 as a way to spend more time with his girlfriend, now wife, Angela. Brad began working as the Maintenance Assistant and has since been promoted several times to his current position, Manager of Maintenance, Safety, and Security. Brad enjoys the challenge of fixing things and that there is no monotony in his daily work at MRC.
As a Mississippi native, Brad ran a cotton gin for two seasons after college. He then travelled all over the Southeast as a Service Tech. When asked about his commute from Senatobia, "driving the distance doesn't bother me, I'm used to it". Brad returns home each day to his family of four, including his lovely wife, Angela, son, J.B. (11), and daughter, Jana (8).  Angela loves working at Senatobia Dental Care as a Dental Assistant. J.B. has recently learned how to drive the riding lawn mower and is having the time of his life and little Jana is just like her daddy; she loves to tinker.
In his spare time, Brad enjoys home improvement for himself and everyone that knows him. He is currently fixing a TV antenna for a friend. He recently moved in February and has been working on making his new home his own. Brad would like to thank Mike, MRC's President/CEO, for making MRC a comfortable, warm working environment. "He has been instrumental in my progress at MRC."
Give Memphis Recovery a call at 866-672-7378 to begin your recovery process.