We want to congratulate Patty Byars for being nominated as July's Making a Difference Employee! Patty was chosen due to her constant smile and positive attitude. Her peers noted that she is a very selfless person who consistently practices genuine concern for others. Patty clearly loves her job and cares for those around her.
Q&A with Patty Byars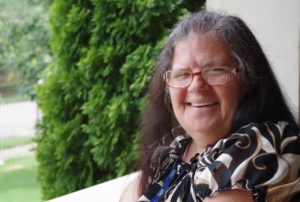 Q. Would you rather win the lottery or work at the perfect job?
A. I think I could handle both! I would want to keep my job. I definitely couldn't get rid of it. Especially since a lot of my winnings would go to my kids and grandkids first.
Q. Aside from necessities, what is one thing you could not go a day without?
A. My phone, but I guess that's really a necessity nowadays. It's the first and last thing I look at everyday. It's really become a bad habit!
Q. What's the most daring thing you have ever done?
A. I'm not a very daring person. When I was younger, I went across a swinging bridge in the Smoky Mountains. It was between two mountains and there was water underneath. I definitely couldn't do that again!
Q. What celebrity would you like to meet at Starbucks for a cup of coffee?
A. Jerry Lewis the comedian. He has a great sense of humor and he is such a happy person. He reminds me of myself.
Q. What does it mean to you to be "making a difference"?
A. It means I am affecting people's lives whether it be by a smile or a pat on the back. I try to be myself everyday. I'm excited I was nominated because you don't always think you are making a difference until somebody tells you.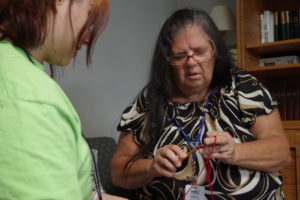 Patty Byars has been a Clinical Assistant at MRC's Adult Program for almost two years. Prior to working at MRC, she worked with nursery age children and the elderly. "Now I'm working with those who are in between the two!" She loves working at MRC. She enjoys her co-workers and how great it feels when she can make the patients smile.
In her spare time, she likes to crochet, walk daily, and play poker stars on her phone. Patty has two daughters, six grandchildren, one great granddaughter, and one great grandson on the way. "It is such a blessing and so fun. There is nothing more special than being called Nana." Patty recently moved to Pickwick, TN where she is about a mile from the lake. She loves the peace and quiet surroundings where she can relax on her pontoon boat and feed the deer at night.
Patty would like to thank those who nominated her this month. "I always see the good in everyone else, but I feel like I'm just doing my job." Patty hopes to be working at MRC for a long time, as she continues to make a difference.
Give Memphis Recovery a call at 866-672-7378 to begin your recovery process.