Substance abuse treatment jobs provide an excellent opportunity for your future. This is true whether you suffered addiction in your past or simply relate to the struggles of recovery. As long as you bring your own desire to help people and an interest in the field, great possibilities open up to you in addiction treatment.
What Should I Expect of Substance Abuse Treatment Jobs?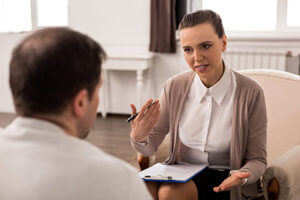 In general, substance abuse treatment jobs provide rehab and support services for people struggling with addiction. Their addictions include a wide range of behavioral problems, ranging from substance abuse to mental health conditions. These conditions also include issues like eating disorders.
As someone working in the field, you guide your clients. In essence, you help them see their way through their own treatment plan. You help them stay on track, give them advice, and even motivate them through hard times.
One thing to remember about substance abuse treatment jobs is the struggles your clients face. Therefore, in this field of work, having a positive attitude, natural concern, caring nature, and tenacity in your own life helps you help others.
Some people in these jobs counsel families toward the right treatment decisions for their loved ones. Others work in day-to-day rehab center operations. Still others lead counseling sessions, engage in clients' daily activities or provide therapy.
Where you might work in addiction rehab careers depends on your qualifications, such as whether you gained education or certifications. One of your most important skills is that of patience. You must be able to stay calm and understanding in a range of situations.
What Is the Outlook for Jobs in This Field?
The outlook for substance abuse treatment jobs remains excellent, according to the Bureau of Labor Statistics. In fact, this bureau expects about 23.2% employment growth in this field from 2016 through 2026. This means treatment centers will need to hire about 24,000 more people than those currently working in rehab and recovery.
People working in drug and alcohol addiction treatment earn a median salary of about $45,000. Of course, this salary depends on your background and education. Certified and licensed counselors earn more than people filling some other roles, for example.
The great news is that only 2% of people seeking addiction rehab jobs suffer unemployment. Therefore, job security is a big bonus.
As far as addiction rehab jobs satisfaction goes, you can expect to enjoy many perks to working in the fourth best social services jobs. People in the field tend to enjoy their work and feel rewarded by it. Among all jobs, these also rank as the 50th best roles in which to work in the United States.
Do I Need Certain Education for Jobs in Drug or Alcohol Treatment?
There is no minimum education level for working in a rehab treatment environment. However, you possibly need some certifications. Many of these certifications take place as you work, on an on-the-job basis. Of course, some roles to require bachelor's and master's degrees.
Some addiction rehab jobs, such as recovery support specialists, only require time spent working in rehab treatment. Therefore, don't be afraid of applying for work before you hold certifications or degrees. Being in your work environment for some time helps you decide upon your own career path. From there, you can set your sights on certifications and education to advance.
Where Do I Look for a Job in Addiction Treatment in Memphis?
Memphis Recovery Centers in Memphis, TN hires qualified people seeking work in substance abuse treatment. Memphis Recovery offers a wide range of programs in which to learn and grow in your career. These programs include:
If you have interest in possible substance abuse treatment jobs, consider working for Memphis Recovery Centers in Memphis, TN. You can make a difference in others' lives while building your own bright future. Call Memphis Recovery Centers now at 866-672-7378.