Memphis Recovery Centers was honored to welcome Tennessee State Senator, Brian Kelsey to our facility on May 16th. Senator Kelsey met with MRC's President & CEO, Director of Clinical Operations, Director of Program Operations, and our Board President to discuss the need for drug and alcohol treatment in our community. He was given a tour of our Adult Program and also took advantage of the opportunity to speak with some of our patients.
We were delighted that Senator Kelsey visited our facility and had the opportunity to see first-hand how MRC is working to make a difference in the lives of individuals across the state of Tennessee who are battling addiction.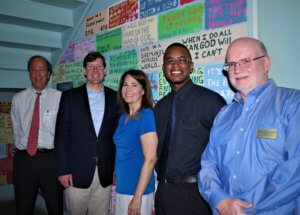 As we work to fight the epidemic that is plaguing our country, it is crucial to have support for addiction treatment programs from our government leaders. We are so grateful for Senator Kelsey's support of MRC and our mission to help individuals and their families regain their lives through recovery! We look forward to continue working with the Senator and all community leaders in finding solutions to address the addiction issues in Tennessee.
Give Memphis Recovery a call at 866-672-7378 to begin your recovery process.